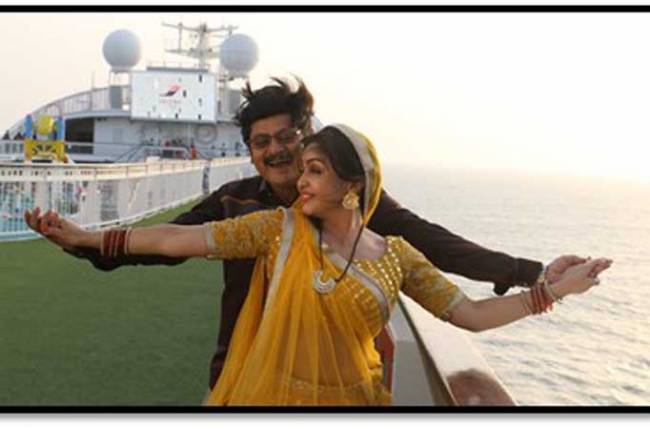 MUMBAI: It's not every day that an actor gets lucky enough to shoot on a luxurious cruise in the midst of a vast blue ocean with the horizon in view. While &TV's Bhabiji Ghar Par Hain has always been experimental about the storyline, the cast decided to experiment a bit with their shooting location. The cast and crew decided to halt their shoot in this city and take little a detour from their monotonous routine as well as Mumbai ki garmi.
Taking advantage of the scenic view of the ocean, the crew has embarked on 4-day long shoot schedule towards the Goa shores where they would be majorly shooting their scenes on the luxuriousJalesh Cruise Liner. From capturing the glorious sundowner to shooting the adventure and experience of the luxurious cruise, the show is set to bring an interesting story for its viewers.
Amidst the ever so stunning sunset, the chulbuli Angoori Bhabhi and seedhe saadhe Tiwari ji are set to have their own titanic moment. Adding a little spark to their romance, as well as following Amma ji's instructions, the couple are set to bring about some spice in their marriage and return with some 'good news, much to Vibhuti's dismay.
Talking about heading out of Mumbai for the first time for a shoot a very excited Rohitashv Gaur aka Tiwari shares, "Honestly, we were quite agitated with the heat in Mumbai, and the work trip on a cruise has come just at the right time. After a really long time we are away from our studio and most importantly, my first time on a cruise in India. There surely couldn't have been a better way to experience the luxury of a cruise liner than with my co-actors. This cruise will be our home for the next 4 days and I am hoping to enjoy the scenic sunrises and sunsets visible from the cruise."
Excited for this new adventure Angoori Bhabhi aka Shubhangi Atre says, "I was eager to take some time off, to get away from Mumbai's heat but with this new and adventurous shoot line-up, I decided to put my holiday thoughts for a later date. This new geographical change will not be just a breather for us, but also a chance to give our viewers something scenic to look forward to. Its an exciting change and each one of us including the members of our crew have been extremely excited for this 'workcation' While we shoot some scenic views couple with our comical scenes, I hope to enjoy the luxury that this cruise has to offer."
The show has always garnered immense appreciation from the audience with the variety of content that it showcases to the masses. With every passing year the show has been delivering some of the most iconic and hilarious stories that are being narrated on television. Taking it a notch higher will be this upcoming fun-filled holiday of Tiwari – Angoori Bhabhi where the duo seem to focus intensely on some 'future planning'.