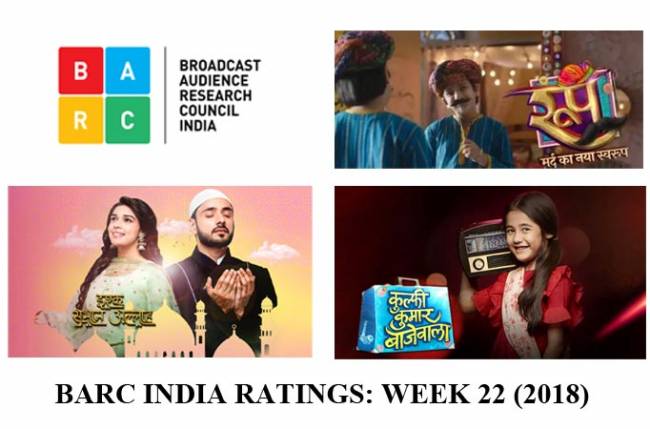 MUMBAI: This week's BARC ratings are very unprecedented. Here's presenting the latest ratings of your favourite shows and channel.
This time as well Zee TV is ruling the roost followed by Star Plus. Interestingly, SAB TV has climbed to the third position.
In the rural area, Zee Anmol, Rishtey and Sony Pal are the top position.
Impressions (000's)
Urban
Zee TV 358650
Star Plus 311527
SAB TV 287594
Colors 281435
Star Bharat 260743
Sony TV 258833
Rishtey 197019
Sony Pal 193766
Zee Anmol 187629
Star Utsav 143857
Rural
Zee Anmol 634042
Rishtey 468313
Sony Pal 383447
Star Utsav 346348
Star Bharat 275830
Zee TV 234207
Big Magic 222990
Dangal TV 207825
Star Plus 135826
Colors 110321
Zee TV's Kumkum and Kundali Bhagya are rocking the charts. Yeh Rishta has maintained the third position and Kulfi has climbed to the forth rank.
Kumkum Bhagya and Mahek are the most viewed shows in rural sector.
Impressions (000's)
Urban
Zee TV's Kumkum Bhagya 7365
Zee TV's Kundali Bhagya 6664
Star Plus' Yeh Rishta Kya Kehlata Hai 5572
Star Plus' Kulfi Kumar Bajewala 4862
SAB TV's Taarak Mehta Ka Ooltah Chashmah 4695
Colors' Shakti-Astitva Ke Ehsaas Ki 4234
Zee TV's Ishq Subhan Allah 4193
Star Plus' Ishqbaaaz 4048
Colors' Bepannaah 3611
Colors' Udaan 3503
Colors' Roop Mard Ka Naya Swaroop 3499
Zee TV's Mahek 3439
Zee TV's Piyaa Albela 3434
Zee TV's Aapke Aa Jane Se 3204
Star Plus' Yeh Hai Mohabbatein 3150
Colors' Ishq Mein Marjawan 3074
Star Bharat's Kya Haal Mr Paanchal 2729
Colors' Tu Aashiqui 2688
Star Bharat's Nimki Mukhiya 2683
Star Bharat's Jai Kanhaiya Laal Ki 2482
Rural
Zee Anmol's Kumkum Bhagya 9320
Zee Anmol's Mahek 5693
Zee TV's Kumkum Bhagya 4765
Sony Pal's Taarak Mehta Ka Ooltah Chashmah 4492
Zee TV's Kundali Bhagya 4322
Zee Anmol's Ganga 3835
Sony Pal's C I D 3424
Sony Pal's Baalveer 3116
Zee Anmol's Santoshi Maa 3036
Star Utsav's Yeh Rishta Kya Kehlata Hai 2772
Zee TV's Piyaa Albela 2709
Star Utsav's Veera 2663
Star Bharat's Nimki Mukhiya 2660
Star Bharat's Kya Haal Mr Paanchal 2539
Zee TV's Mahek 2526
Star Utsav's Rabba Ve 2511
Zee TV's Ishq Subhan Allah 2477
Rishtey's Bani Ishq Di Meher 2456
Star Utsav's Saath Nibhaana Saathiya 2452
Star Utsav's Ishqbaaz 2339