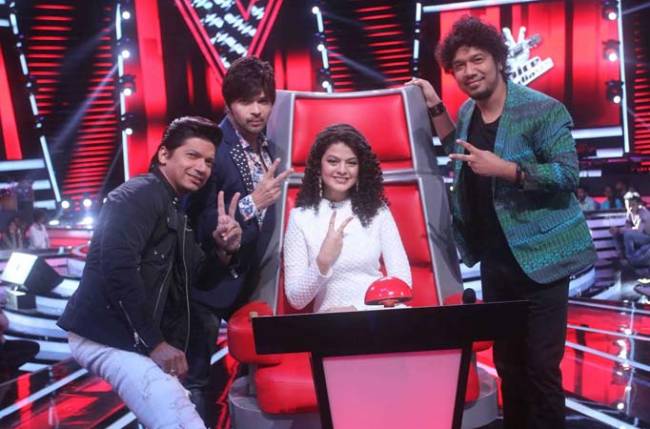 The Voice India Kids has returned with a bang and the singing talent week on week has been exceptional!
With such young talent setting the bar so high, double the amount of pressure falls on the coaches whose responsibility is to mentor and coach these young sensations to further heights. The camaraderie between the coaches – Shaan, Himesh Reshammiya, Papon and Palak Mucchal has been really entertaining and all the four seem to get along really well. They've bonded so well that they've coined nicknames for each other!
Shaan, a constant on The Voice India since its inception, is being called Sweet Shikari Shaan!
The other three coaches believe that Shaan has the power of sweet talking the contestants into persuading them to join his team and thus the name fits him very well.
Himesh, the handsome and stylish hunk that he is and after all the hit songs and compositions he has had, the coaches address him as hit and handsome Himesh. That's not it, he's more popularly also knows as HR – which we hear he appreciates more.
Moving on, for the youngest coach and the sweet princess of the music industry that she is, they call Palak, Raajkumari Palak.
And finally, Papon, the confusion that surrounds the pronunciation of his name, motivated the coaches to form a tongue twister with his name and they address him as Pyaara Paapi Papon.
Himesh also mentioned that Papon seems pyaara to the kids but is paapi (toxic) for the fellow coaches as he has a tendency of attracting contestants to his team.