He speaks up on the stereotypes in the society.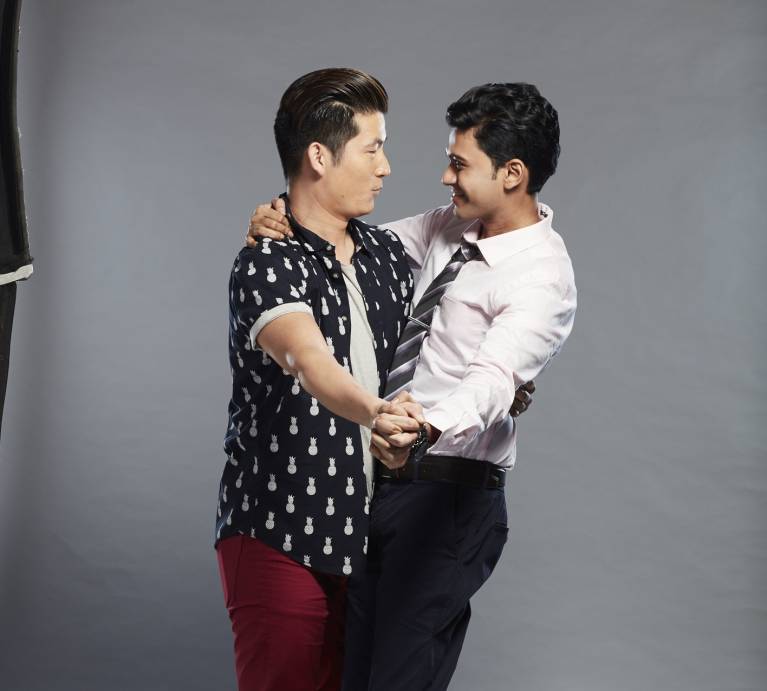 After having explored singing and hosting, looks like Meiyang Chang is now all set in the acting world. He will be seen playing a gay character in Untag. In an attempt to break the stereotypes, he speaks more on his character and the concept of the show.
Most men don't have the guts to play a gay character. Did it need much convincing?
Honestly, I don't see it as a bold or risky move. For me, it is a story of a normal person in an abnormal society. I have gay friends. Yes, from the perspective of an audience it may seem bold, as gay & lesbian people are perceived as an oddity in Indian society (some even going as far as branding it criminal). But that's what Untag plans to do; change those perceptions.
The biggest challenge was to not fall into the trap of essaying a stereotypical portrayal of a gay character. For this, I had to open my mind to what goes in their world and do my research. They are different, no doubt, but they're not abnormal. In fact, they're more fun loving & know how to lighten up. I'd say playing a gay character was eye-opening as well as a lot of fun.
How did you suddenly move to acting from singing?
I've been one lucky bastard to have explored the various entertainment fields the media has to offer, be it stage, tv, film & the digital world in different capacities. My first love will always be acting & singing, though. They invigorate me, make my existence worth it. Hosting comes a close second, especially the talent & travel based ones. Dancing & participating in adventure reality shows are one-offs & I'm still very iffy with my two left feet.
Because of your facial features, you tend to get labeled a lot probably. Is it a rebellious streak in you to be a part of this show?
I have faced racism all my life, I still do. While most of it is harmless curiosity & I don't mind it, some of it is vicious & hurtful. I've never indulged in body shaming or judging people on their color, caste, ethnicity or religion, so I really don't understand the malice towards anyone who doesn't conform to one's idea of normal. I'd like to get rid of that tag; it's a ridiculous baggage we could do without. The question is not whether my eyes are small or not. It's about whether your heart is big enough to accept me as who I am.
As an actor willing to experiment, I don't have inhibitions with any character & script that I connect with. However, I did have apprehensions about playing a gay character incorrectly. There are too many over-exaggerated & stereotypical portrayals of them out there & adding another one would've been an insult to the community as well as to myself as an actor. Hence, I observed, discussed & researched to essay it right. For portions where I needed guidance, I had the support of my fabulous director Ashima, writer Zaheer & the outrageous Andy. I hope that the final execution has worked out right & the viewers see gay people as they are: a part of our society.
Tags are certainly the judgemental faction of our society putting people in boxes. But is there any place for it in a modern world?
Every judgment that we pass comes from a place of ignorance & arrogance. But this problem doesn't belong solely to the current generations. It's a deep-seated malaice, going back in centuries. In real life, I've faced racism all my life and that dented my confidence back then. Similarly, any unnecessary tag given to a person takes away from what the person actually is and shifts the focus to others' warped perception of them. Fuck labels, we're all human beings first & foremost. One should never have to apologize for what they are. We should see them as that, and not what they're judged for, we should teach others the same.
For a man of Chinese origin to make it into mainstream couldn't have been easy. Are you there yet or it's a long way to go?
Nine years ago, if someone had told me that an Indian man of Chinese origin could leave a mark in all possible media of entertainment, let alone go mainstream, I'd have laughed at them. But here I am, having acted in 3 mainstream films, hosted & participated many primetime television shows and dabbled with music recordings, stage performances as well as the digital medium. There is still a long way to go, though. My ethnicity doesn't interfere in my singing or hosting duties but it does limit my acting opportunities. The day I've defeated that limitation to become a regular is when I'd believe I have made that important inroad. And that would be a new beginning.
You're making a strong case for the gay community in India? How do you feel about Section 377? What kind of research did you do for the role?
I have always been supportive of the LGBT community, albeit under the radar. I'm openly speaking about it now because of a better understanding, owing to my research for Untag. The actual champions, however, are those who have tirelessly, continually & openly voiced their support for the community, understood their problems better and are united against the draconian law that is Sec 377. They are the ones who should be heard, followed & cheered.
I'm just one of the new converts to the cause & hope to change mindsets along the way. I hope to leave an indelible mark & increase the racial diversity of the Indian entertainment industry to such an extent that one day, it won't be an aberration to have oriental artistes in the fray anymore.