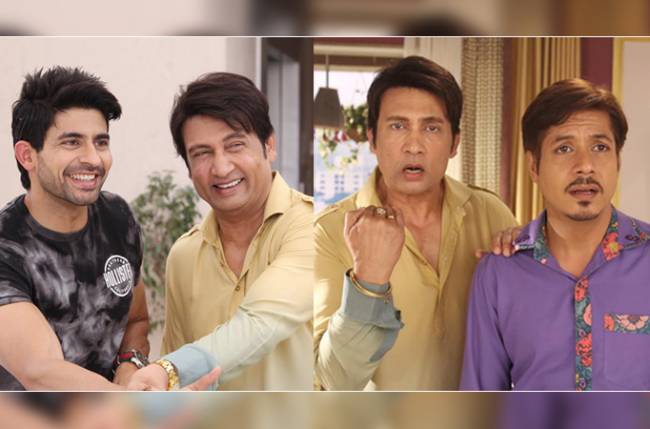 Mumbai: SAB TV's Saat Phero Ki Hera Pherie is winning the hearts of audiences of all ages. Along with the talented star cast, the show also has a hilarious storyline. This week, the show will give viewers a huge surprise as the plot merges with Sajjan Re Phir Jhoot Mat Bolo. The lead protagonist, Jay (Hussain Kuwajerwala) and his family will step in to help Parimal in his time of crisis.
In the upcoming episodes we will see that Parimal (Amit Mistry) is stuck in a situation where the biggest secret of his life is about to get revealed. Parimal, in his childhood, was engaged to Bhura Kaka's daughter but eventually the engagement was called off. Bhura Kaka still dotes on Parimal as his son-in-law and addresses him as 'Jamai Raja'. He intends to meet Parimal on his visit to Mumbai along with his daughter. Parimal is very scared of facing him as he hasn't spoken about his past to Rupal (Ami Trivedi). He consults Bhupi (Shekhar Suman) who suggests him to take the help of Jay (Hussain Kuwajerwala) as he is the best problem solver he knows. The show sees the entry of Jay with his family who mess up the situation further by telling the truth about the engagement to Rupal. This puts Parimal in a spot. Jay now comes with another plan to save Parimal and covers up the damage done.
Will Jay succeed in hiding the secret of Parimal from Rupal? What will happen if Rupal finds out the truth?
Commenting on the track, Amit Mistry who plays Parimal said, "This track is very interesting as Parimal's secret that is hidden from the entire world for so many years is about to get revealed. And, Jay comes and complicates everything. It will be funny to see how Jay will try to manipulate the whole scenario in front of Rupal. The shooting with the starcast of Sajjan Re Phir Jhoot Mat Bolo was a lot of fun."
Commenting on this funny track, Ami Trivedi who plays Rupal said," Parimal was really successful in hiding his biggest secret from Rupal, but since Bhura Kaka is coming to his house with his daughter it is very difficult now to hide the truth. It will be fun to see if Jay and his family can help him in any way."