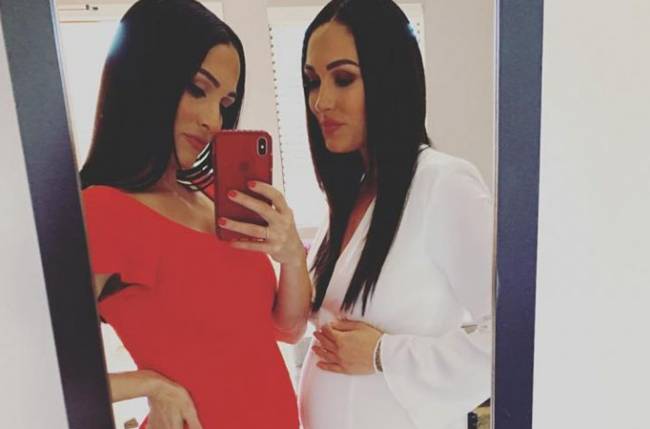 Total Bellas stars Nikki Bella and Brie Bella are set to welcome their babies into this world and are constantly sharing updates through pictures on social media. The heavily preggers, soon-to-be mommies are gearing up fine and recently revealed the gender of their babies. After having a cute baby shower, with the due date of the Bellas approaching, take a look at how heavily pregnant twins Nikki Bella and Brie Bella complain as they are tired. The Total Bellas stars look adorable complaining as their due date approaches.
Taking to their YouTube channel, The Bella Twins shared a video and captioned it, "PREGNANT and TIRED! The Bella Twins complain together." The video features the twins lying down comfortably on a bed. While Nikki Bella is cutely dressed in a sexy purple backless, halter neck dress, sista Brie Bella looks pretty with her perfectly done makeup. As the Bella twins chill and lounge in bed, they complain how tired they are.
With both of their due dates approaching, Brie and Nikki plan on to spend their afternoon taking a lovely nap. While Brie is spotted filming the video, the lazy Nikki Bella enjoys her sister's company. In the video, Nikki Bella and Brie Bella also announce that they will soon resume shooting for the next season of their show Total Bellas.