Romantic scenes lined up for loyal viewers of the Star Plus show.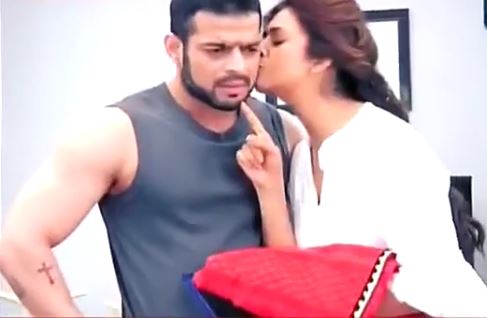 Raman (Karan Patel) and Ishita (Divyanka Tripathi) are going through a rough patch in Star Plus' Yeh Hai Mohabbatein because of Pihu (Ruhanika Dhawan). Pihu has been creating trouble for IshRa (Ishita and Raman) at the behest of Shagun (Anita Hassanandani), who has brainwashed Pihu and sent her to the Bhalla house to trouble Ishita.
But the madly-in-love' couple, one way or another, find the time to romance each other and take happiness in those small romantic moments. The makers have now obliged to the fans' demands and have included more lovey dovey scenes between Raman and Ishita in the on-going track.
Pihu's hatred for Ishita has forced the couple to swap duties. Raman has become the house husband for now and Ishita, a business woman. Raman now manages the house and Ishita runs his business. Ishita decides to enroll for an MBA course so that she can manage Raman's business better.
Raman, on the other hand, gets down to doing household chores like ironing Pihu's school uniform and cooking her breakfast. In between the shift of duties, our Raman and Ishita find time to romance with each other.
Raman will be ironing Pihu's uniform shirt but Ishita will insist on doing that. Raman will however, not let her do it and will ask her to get ready herself instead. They would argue about the same and Ishita would then give Raman a peck on the cheek.
A dreamy Raman would blush thinking about the kiss but forgets that he was ironing Pihu's shirt and burns it in the process.
Helping each other hand in hand, will Raman and Ishita be able to convince Pihu of their love for her?
Cute, aren't they?