and it surely doesn't seem to be working for them!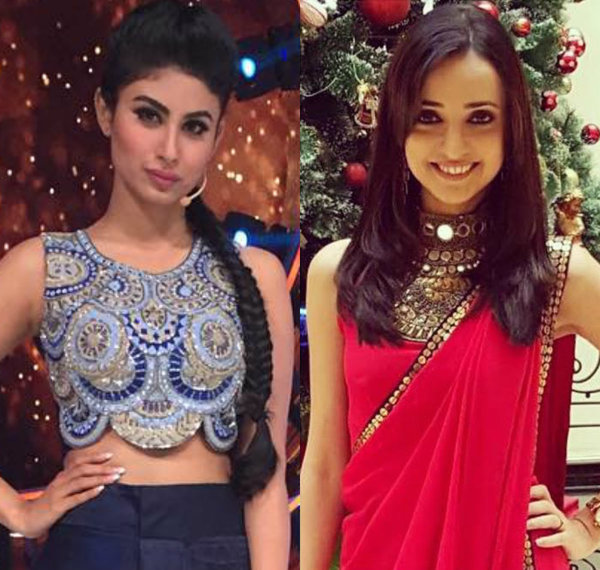 While one is the most loved actress of television, the other has swooned the industry with her style and panache. Sanaya Irani and Mouni Roy are undoubtedly one of most talented actresses television boasts of today!
But do you know what these leading ladies share in common?
Their designer! Television actress and host, Roshni Chopra, who is also a dear friend of both the actresses, owns a fashion label. Both Mouni and Sanaya are often spotted flaunting her creations.
Here's one of her interesting creations for Sanaya Irani. A red dhoti inspired drape with mirror adorned blouse and black pants.
And here's one for Mouni Roy. A blue draped skirt and ornate scallop hemmed blouse.
While using the expertise of a creative fashion designer is vital in the glamour business, sharing the 'same' fashion designer can lead to a 'fashion face-off'. This co-incidence surely doesn't seem to work for Mouni and Sanaya.
Here's why it was a bummer for us…
Remember when Mouni Roy and Sanaya Irani were spotted in the same design? While the former wore it at a Diwali party in 2015, the latter had worn it for her own sangeet party in 2016!
While Mouni looked ravishing in her red crop top lehenga ensemble, Sanaya looked like a million bucks in her pretty pink attire. Both slayed their respective looks. However, seeing them in a common design was a disappointment for us at Stylebuzz.
Here comes another bummer…
Naagin actress, Mouni Roy in black and gold dhoti pants:
Sanaya and Roshni Chopra too in the same design. This one takes the cake!!
And this one too…
Although, the actresses looked amazing with their respective styling, seeing them in the same design was a bit of a let down for us.