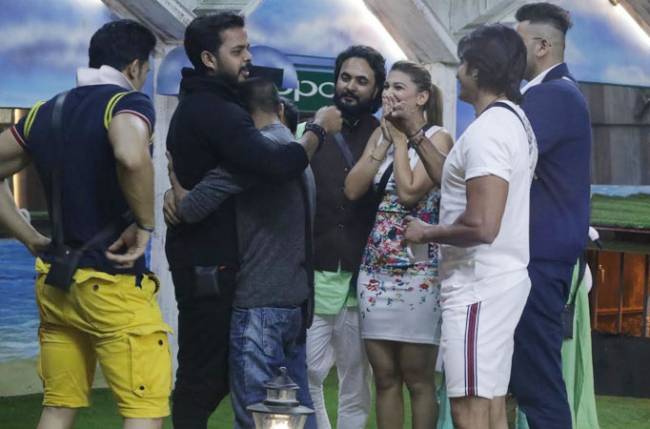 MUMBAI: The beginning of a new week hopes to bring more cheer and lessen the tensions amongst the house-mates. After Neha's emotional goodbye, contestants were trying to wrap their heads around the eviction and come back to normalcy. Bigg Boss woke the contestants up to 'Do MastaneChaleZindagiBanane' which indicated the surprise that was to come with Anup Jalota and SreeSanth entry back in the Bigg Boss house. Unaware of the re-entry, the contestants were shocked by Bigg Boss's announcement of breaking up the Jodi's. Now each contestant will play individually, and all will be competitors. While this made some of the contestants happy, some of them are left confused and heartbroken.
Soon, nomination procedures took precedent and everyone had to be more alert this time! The jodi's were called in the activity room where each Jodi had to take a tough call together by nominated either one of them for evictions.On the other hand, Bigg Boss asked the singles, Dipika, Karanvir, Srishty and Jasleen to say any three names amongst them for eviction. The nomination process made some contestants emotional while some were agitated. The bitterness prevailed amongst the jodis and singles Sristhy and Karanvir were upset with Dipika and her decision and Urvashi was seen fuming with anger against Deepak.
With pressure and insecurity swirling In the atmosphere of the Bigg Boss house, a surprise element for the contestants was awaiting them. Anup Jalota sitting in the confession room sang 'Bachna Ae Haseeno' before surprising the contestants with his presence. The contestants were excited and jumped with joy after seeing him. Soon, Bigg Boss played the song which Deepak created for SreeSanth, everyone was taken aback when he entered the house. SreeSanth's entry made contestants extremely emotional and they couldn't control their excitement. Later, SreeSanth and Anup Jalota spoke to the contestants and briefed them on their journey in the Bigg Boss house.
A lot of revelations have been made, a lot of game plans revealed. On learning the truth, willl the relationships stand strong? Or Will Anup &SreeSanth's feedback create a further divide amongst the contestants?