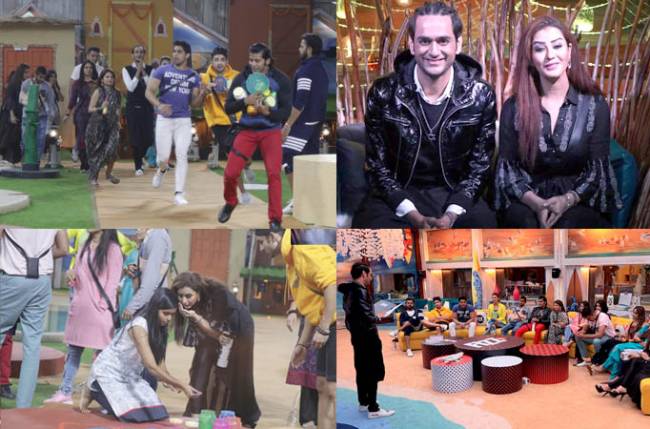 MUMBAI: As Diwali is just around the corner, Bigg Boss has planned a fun week ahead for the contestants with the Diwali Dhamaka. Bigg Boss woke the contestants to the song 'Rangeela Re' and were surprised to see a village set up in the garden area. Their morning started with a lot of curiousness about what's in store for the them today. All though they had a hint that it might be something related to Diwali and most of them were dressed up in their traditional attire. Later they were amused to see season 11's most contentious contestants Shilpa Shinde and Vikas Gupta in the house. They were sceptical with their entry as they were not sure whether they were contestants or they had come as guests. However, the suspense came to an end when Vikas mentioned that they are here for a special task.
The house was then divided into two parts – Gupta Pariwaar and Shinde Pariwaar. Gupta Pariwaar had Karanvir, Srishty, Dipika, Shivashish, Megha and Jasleen while Shinde Pariwaar had Romil, Somi, Surbhi, Deepak, Urvashi and Sreesanth. The task was called 'BB Gaon Ki Rangoli Pratiyogita'. There were two houses and an aangan in front of each house. As a part of the task, after each gong that sounded like a firecracker, the contestant from each team had to run to the storeroom to collect items and had it over to the team member making the rangoli. Vikas and Shilpa were the sanchalak of this task.Vikas and Shilpa's entry has definetly changed the atmosphere of the house and all the housemates are pumped up to give in their best to win the challenge.
With Vikas and Shilpa standing opposite to each other once again, it will be interesting to see which team will win this task and what drama will unfold in the house?