The creator of epic shows like 'Ishqbaaaz', 'Iss Pyaar Ko Kya Naam Doon?' and 'Geet Hui Sabse Parayi', shares it all…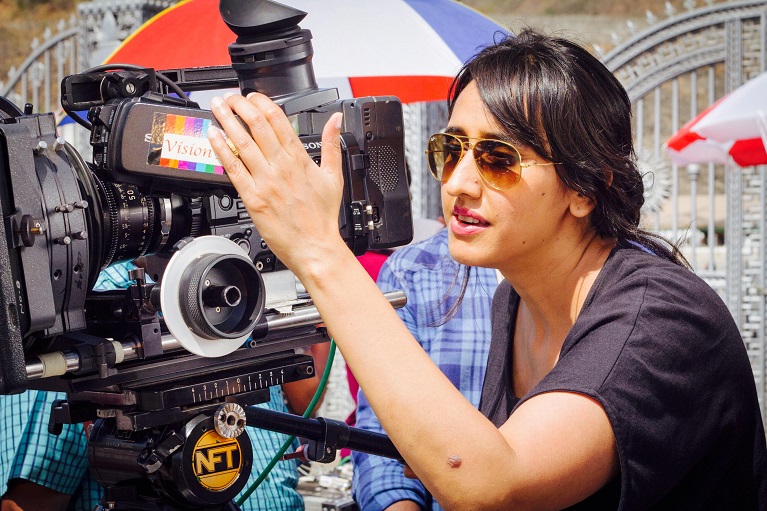 After tasting immense success with landmark shows like 'Geet Hui Sabse Parayi' and 'Qubool Hai' on Indian Television, director turned Producer Gul Khan, founded Four Lions Films here, in the city of dreams Mumbai. From kick-starting a legacy with a show like 'Geet' and taking it even further with 'Iss Pyaar Ko Kya Naam Doon?', to now running a popular show like 'Ishqbaaaz' and introducing the first of its kind spin-off 'Dil Bole Oberoi', the lady has indeed come a long way.
Gul Khan is a graduate in Mass Communications from the esteemed Jamia Milia University in Delhi. She has not only narrated beautiful stories but has also dabbled in documentaries. But ask the lady and pat comes the reply with a smile, "Fiction is my favorite".
The lady with a vision, is truly an inspiration for many as she has successfully sailed through various hurdles to accomplish what she has today, in the overly competitive industry. From getting over the hard rock of bankruptcy, to her production house Four Lions being on the verge of falling apart and then struggling with ratings while attempting different genres and stories, Gul Khan has seen it all and yet emerged with flying colours. The czarina of fictional romance gets candid with India Forums and shares her inspiring journey of how she reached where she is today!
What is your favourite genre of fiction? Any particular space that you enjoy working on?
I have special love for action. I am a huge fan of Jackie Chan, but the problem is that action doesn't do very well on TV. So if I have to choose a genre of this medium, it would be romance.
Your shows have mostly been female-centric. But you went on to introduce 'Ishqbaaaz' with three male leads. How did you go about this ideation?
Well, most of my shows have been hero-centric. Shows like 'Geet' revolved around a woman and her life, but the takeaway from the show was the male lead – Maan Singh Khurana (Gurmeet Choudhary). In a similar instance, 'Iss Pyaar…' was primarily about the character of Arnav Singh Raizada (Barun Sobti). I have always set stories from a hero's point of view. Infact, when we planned to launch 'Iss Pyaar…', the channel was a little skeptical about presenting the show from Arnav's point of view.
In most daily soaps, heroes stand in the background but the male protagonists in my shows are very proactive.
In a TV scenario where women dominate screen space and have a storyline centered on them, do you consciously focus on portraying the emotional and family values of men?
Certainly. If you take any show, their family and emotional aspect have always been shown. If you watch Qubool Hai, Asad (Karan Singh Grover) had a broken family and he was in pain. His relationship with his mother and sister was one of the central focus of the show and the whole story was woven around sibling relationship.
But, don't you think television is overwhelmed with family dramas? Although you have touched other genres but have never pursued them further.
That's the problem! Every time I have tried doing something apart from family drama, it has not worked. When we started 'Iss Pyaar…', we had two very expensive sets. One was Arnav's office and the other was his home. But we had to just dump the office set and stop shooting there because the office track just didn't work out. That was when I learned, that viewers love to watch a household drama. For Ishqbaaaz, we developed a story of three brothers who shared everything about each other, but the audiences just did not accept it. That was when, we shifted our focus to family drama and the show started working great in terms of ratings.
You are also a director along with being a producer. So how do you balance between what's demanded and what you wish to make in the commercial setup?
Right now, I am in a happy space. The shows are working well and I am creatively satisfied. But sometimes the balancing becomes very difficult. We want to try different genres, but the harsh reality is that we are a daily soap nation. India and Indonesia are the only nations that have such formats. When we talk about western shows like Game Of Thrones (GOT), they make only 13 episodes, while we go on and on with a show. That is one of the major reasons for the difference in quality that you see. We had tried that with our web series, 'Tanhaiyaan'.
So exploring that, you made Tanhaiyaan… which is again a relatively different content for digital space. Digital is a space, that is believed to feature everything that you can't present on Television…
When we were asked to make something for Hotstar, we asked for a brief and the team at hotstar replied,"As a fact, the most consumed fiction online has been 'Iss Pyaar…" So we went ahead and made something on those lines. Currently, Tanhaiyaan is topping charts on Hotstar. So the same content is being consumed online as well. The audience for online is the same as television.
Will you also be exploring more genres on a platform which is not associated with a channel?
I think the youth is consuming the same content. They have been responsive to our shows on different platforms. If a section of audience is enjoying the regular drama series and responding to it online, I don't think they are the audience for action series.
Your shows have a very significant production value. Everything from the sets to costumes, has a grand look and feel to it. What is the thought process that goes into it? Also, you make a lot of alterations on the set.
A lot of hard work goes into making the creatives. Ishqbaaaz has a regular budget just like any other show, but we had decided that this is the production quality we want. So as a brand, that's the quality we wanted to get associated with.
And how much do you think that contributes to the show?
Since it adds to the beauty of the show, it becomes very appealing as we are in the business of entertainment.
How is the equation with broadcasters managed? You create shows for the viewers directly and then you have to deal with the channels. What are the challenges there?
Currently, it is very smooth since Star Plus gives complete creative freedom to the makers. They have done that for the entire network, therefore, we can completely focus on creativity. They are extremely cooperative and have a broader outlook. So that really helps. Even in my previous work with ZEE TV, it was the same. And for a show to run smoothly, it is important to have that freedom.
Currently, with the new boom in digital space, do you think your target audience has changed and you have to make tweaks to cater to both digital and BARC audience?
The online audience is very limited as a lot of people don't understand this concept much yet. And what still counts is BARC ratings as that's what distributors make a count of and that's the criteria for makers to do well. So digital is very irrelevant because it doesn't count. We don't earn anything extra because Ishqbaaaz is topping the charts on Hotstar. We have to perform on BARC. Maybe eventually it (Hotstar) will count after a few years, but as of now, we can't focus on it until it is translating into money.
But, doesn't digital give you a better audience reach?
They are not the audience since they are not counted in the ratings. They don't watch it on television timings. They watch it on personal devices, now whether they liked or disliked the content, does not contribute to the ratings. We are not making shows for the digital audience, we are making the shows for BARC audience and we are very clear.
For example, we started Ishqbaaz with a very 'Dil Chahta Hai' feel…like there was this Mallika track, the bromance track where the three brothers would cook together and talk about women in their lives. While people online went gaga over it, Star Plus told us that if we did not cross a certain rating, they will shut the show. So while everyone was thoroughly enjoying the whole story line, the show was on the verge of shutting down. That's the level of disconnect between online and television audience. BARC is the only criteria for a show's success.
Do you think that success should be focused only on BARC ratings, or will it eventually widen to other platforms?
I don't think that will happen anytime soon in India. Star shares a lot of data. And as per that data, BARC is going progressively interior. They are facing a problem with paid channel. So, people in India have a problem with paid content. And till they do not pay and watch, digital will never work. People are used to watching free Television, so that is a huge roadblock for us to get into that space.
Keeping digital aside, even BARC is bifurcating and penetrating into interiors. How is that affecting the makers?
The solution to that is a good story. If your story is good, it is universal. Then it can't become a matter of pressure, as a good story will cut across. A character like Shivaay, is loved by every single person, it is not only breaking the economic sections but also the gender and age group. People just like him.
Four Lions has created some iconic couples on-screen. Your casting game has always been very strong in each show, right from Geet and Maan to Arnav and Khushi to Asad and Zoya and now Shivaay and Anika. How does that happen?
There is nothing particular to that, but I feel that's my strength. I focus on the aesthetics. And I have a great team. My team has been with me throughout, right from my story-writer, to my stylist and even my director, they all have been the same. This team has been like family.
So, as a production house, you all must have faced a lot of challenges together, would you like to share some tough times?
Once our company went through bankruptcy. There was embezzlement and money was stolen. We were down to an absolute zero, but these people stood by. We were not able to pay them for two years and still, they remained associated with us. They have worked for one and half years without any money.
How did you make a comeback from your Bankruptcy?
We started pitching more shows. When people thought we were over, Ishqbaaaz was our comeback.
Then, Ishqbaaz must be a big gamble for you, especially when we don't see three guys on a poster that often…
Yes, but we always try something different with all our shows. Qubool Hai was one such concept, that nobody was pursuing. There were many untouched elements in the show. 'Iss Pyaar…' was the story of a millionaire, when the trend that time around was for the saas-bahu sagas. Geet was about a girl who was already pregnant in the show. It was absolutely against the GEC formula.
You came up with the concept of a spin-off for Ishqbaaz. That's completely new to the space. How did you think of that?
I had an idea of making a spin-off and we wanted to make it on Hotstar. We spoke to the broadcaster for a slot on Hotstar, to do another brother's story. So Gaurav Banerjee and Anita from Star replied and told us that we could do it, but they wanted it for the channel instead.
'Iss Pyaar ko…' was one of your significant shows, highly popular for its leads Barun and Sanaya. But Barun left the show mid-way. Producers have seen such phases where the audience relates to the characters majorly, but these very characters end up quitting the show. How do you handle such challenging situations?
Actually, audiences don't relate solely to the actors in the show. I have done it so many times. When Qubool Hai was on the top, Karan Singh Grover wanted to leave. And it was on a very amicable note, so was with Barun. And Qubool Hai ran for three years after that. Because it's never the face which is popular, it's the character which people relate to.
Gopi Bahu sets the biggest example. She was India's most popular character and the show, a number one show. The lead changed and the show is still running; Infact, the show and the character are both still popular. It has happened so many times and a face change does not matter.
You come across as an independent strong persona, but somehow the female protagonists in your show are seen to be very regressive.
We have to balance out. You have to keep the progressive bit in the second layer. You see my heroines from the first episode, be it Geet, Zoya or Anika, overall the takeaway from them is very progressive.
Geet was pregnant, her husband had left her, but she said 'doesn't matter, I will fall in love again'. When you see the episode where the husband pushes her and beats her, there is honor killing but that doesn't mean it's regressive. You have to see the takeaway of the show. You can't judge from one scene or one episode. Even when you look at Anika, she is a girl who doesn't dress according to her in-laws, she stands on her grounds, doesn't want to take the surname. That is the takeaway from the character.
When you are serving such vivid audience, and especially tier II audience, you can't throw things straight at them. First, it has to be all nice looking… You have to make them fall in love with the character. Then she talks about the relatable issue and then gradually you bring in your issues and not hit on the face directly.
What are the key components of your story telling?
There is a mix of many factors. First, it has to be emotional and there has to be relatability. If it is not relatable, nobody will come and watch. The story has to be interesting and the characters have to be lovable. Actually, the character is the key. We struggle the most for a character. The most amount of hard work goes into making the character lovable.
Was that the reason for a spin-off?
Yes, because the characters were so edgy and there was so much more story to tell.
So are you going to come up with something for the third brother as well?
Yes, we are soon going to highlight Rudra's life as well. The tracks around him will soon begin.
With the kind of new time slots and a new wave of programming coming in, where do you think the industry is standing today?
It is not doing very well because nothing seems to be working. The number of hits we used to have 3-4 years ago, has really gone down. We are going through some kind of a change and it is becoming very tough to make a show successful. People are expecting new things, but not very new things. They want to see something fresh, but not too fresh. The balance has become very very difficult. We all are experimenting in our own way.
So what do you think could be the reason?
I think people are bored of seeing the same things and same stuff over and over. They need something fresh. I think that worked for Ishqbaaaz. It was about three brothers and also had a fresh look to it, there was a new breeze.
Do you agree to the fact that the daily format makes the stories monotonous?
Of course, it does. India is the only country that makes dailies like this. Except for India and Indonesia, there is no other country that makes dailies like this. If you see a Turkish show, which is a rage right now, maximum 60 episodes. We, on the contrary, go on and on.
Concluding, how different is it to now be a producer after being a director?
It's very boring. If I get a chance, I will only direct. The kind of shows I want to do, there is no platform to spend that kind of money. Nobody agrees to watch.
Well, that was some insight on the television industry… Kudos to the woman and her inspiring journey! You surely make us all proud.