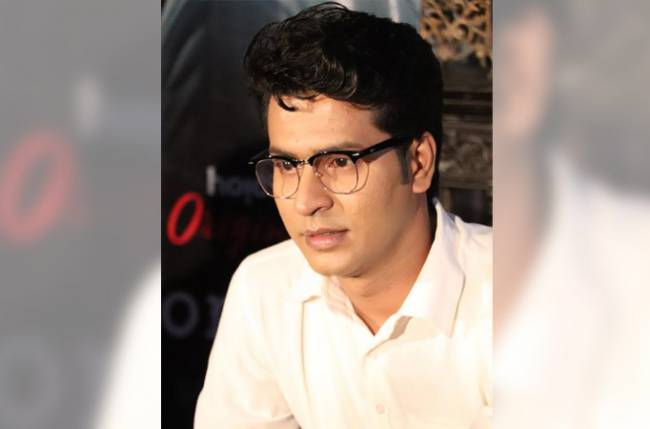 Actor Anirban Bhattacharya says that he feels lucky and is happy to get the opportunity of portraying the role of ace Bengali sleuth Byomkesh Bakshi.
Bhattacharya is playing the role of the truth-seeker (satyasandhani) in a web series, the season 1 of which has already been released and now the series is returning with season 2 which will narrate the story of Rakter Daag. For the uninitiated, Byomkesh would call himself a truth-seeker (satyasandhani) and not a detective (goyenda).
Anirban said recently at a press meet which was held at Rai Thakur Bari in Kolkata, "Being a Bengali actor, I feel immensely happy that I got the opportunity of portraying a character like Byomkesh Bakshi. Not everyone gets to play such a role so I consider myself fortunate."
Earlier, under different directors, many films and tele-serials on Byomkesh Bakshi have been made. Speaking about those films and serials, Anirban said that each of them has been successful in their own ways and he hopes that theirs will also be able to make a place in the hearts of the viewers.
Interestingly, episode 1 and 2 of season 1 were directed by Sayantan Ghosal and season 2 has been helmed by Soumik Chattopadhyay.
Sharing his experience about being directed by two different directors for the same project, the actor said, "As an actor, I find this really interesting that the same story, the same character, the same novel has been directed by two different directors in a single web-series. While I have my own perceptions and interpretations of the story, the directors have their own cognizance. To have a cumulative comprehension of all these understandings of Byomkesh and then delivering it requires loads of hard work, but at the same time it is fun to do so."
Bhattacharya mentioned that he had wanted to work with Soumik Chattopadhyay since a long time. He shared, "I met Soumik Da, after my University days, through some of my friends. I wanted to work with him since long and finally Hoichoi gave me that opportunity via Byomkesh."
Great going, Anirban!!
The one hour long first episode of Byomkesh season 2 will start streaming from 16 December followed by the second episode on 25 December.