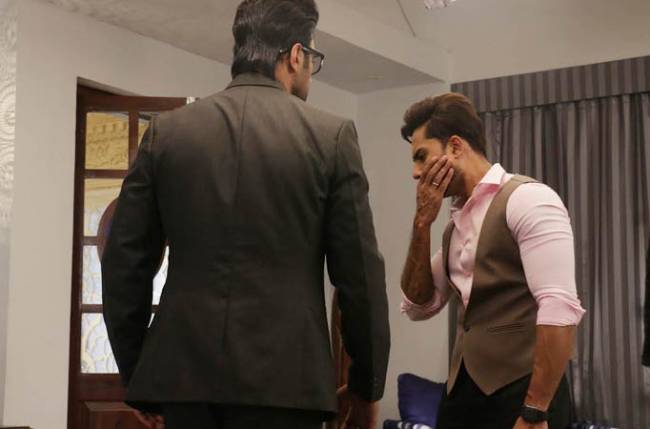 MUMBAI: Getting carried away in the course of a shot is a part and parcel of many a shoot and actors face these situations from time to time. Well, it can get a little awkward, especially if one of the actors involved takes offence. Recently, during the shoot of Zee TV's new show Guddan…Tumse Na Ho Paega, the actors Nishant Singh Malkani (who plays the male lead Akshat Jindal) and Rehaan Roy (who plays the character of Parv) – both inspectors in the show, who share a great bond, had a bittersweet moment while shooting for one of the sequences. The sequence required Nishant to mock-slap Rehaan and in the spur of the moment, Nishant ended up slapping the actor rather hard, leaving everyone, including Rehaan himself a bit shaken! Everyone wondered if Rehaan will react, but the actor took the slap in his stride and completed the shot with grace. Even as Nishant, embarrassed about the instance, began to apologize to him, Rehaan, being mature and a thorough professional, turned the entire incident into a lighter moment, much to everyone's relief!
Says Nishant, "There are a lot of times, especially during action sequences, where a reel situation turns into a real one. It so happened that while I was to mock slap Rehaan, it turned into a real tight slap. But thankfully we both share a good bond of understanding and friendship and quickly handled the situation. The shot was okayed in one go and we both heaved a sigh of relief. I was of course embarrassed, but Reehan put me at ease and as they say, 'All's well that ends well'."
Zee TV's Guddan…Tumse Na Ho Paega attempts to break the societal shackles surrounding capability and self-doubt. It eggs people on to challenge themselves and believe in their own ability to achieve the extraordinary. A light-hearted story of a 20-year old girl, Guddan, who having bumbled and fumbled through most of her life and being told by her own family that she can barely get one thing right, finds herself becoming India's youngest mother in law to three older daughters-in-law by a quirk of circumstances.