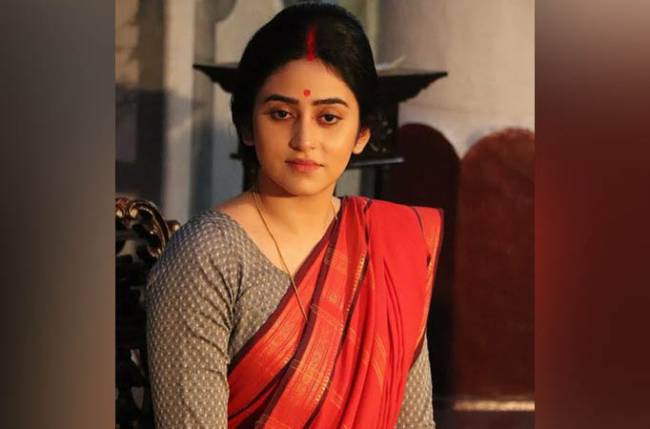 Pretty actress Ridhima Ghosh, who recently tied the knot with her longtime boyfriend Gaurav Chakrabarty, says that she can relate to the character of Satyabati.
Ridhima is playing the role of Satyabati in a web series, Byomkesh, which recently returned with its season 2 and this season is narrating the story of Rakter Daag.
Speaking about the character of Satyabati, the actress said to media at a recent press meet, "Satyabati has always been my favourite character and while portraying her on-screen, I have fallen in love with the character even more. She is a strong willed woman. I can relate to her."
When asked by if she has taken any characteristic trait from Satyabati and applied it on her real life to which she replied, "I would say that it's the opposite. We go through various experiences in our lives and as actors we try to use and apply those experiences whenever we can. It can be an emotional moment or anything. Considering my thought process or the way I interpret things, I think I am very strong willed and I have a very strong backbone. I keep my self-respect in place and Satyabati is exactly like that. She is very educated. She is the backbone of Byomkesh. I can relate to her."
Can we say in real life Ridhima is the backbone of Gaurav? "Yeah, definitely, I believe so…" she said with a smile.
Ridhima has played the role of Satyabati twice in her life so far. Before the web series, she has portrayed the character in a tele series where Gaurav was seen as Byomkesh.
When we asked how she motivated herself to play the same role again, she shared, "The story is not new but the script is. Also, the interpretation is different. Of course, some of the excerpts have been taken from the book but rest is different. For the soap, I had worked with Gaurav but here Anirban (Bhattacharya) is playing Byomkesh. So, it was different for me and as a result I had to approach it differently."
Talking about her co-actor, Anirban, she commented, "He is a fantastic actor and a very good friend of mine. We helped each other by sharing inputs in order to improve our scenes. I feel our chemistry has worked."
Keep up the good work, Ridhima!
The one hour long first episode of Byomkesh season 2 has already released online and the second episode will start streaming from 25 December.