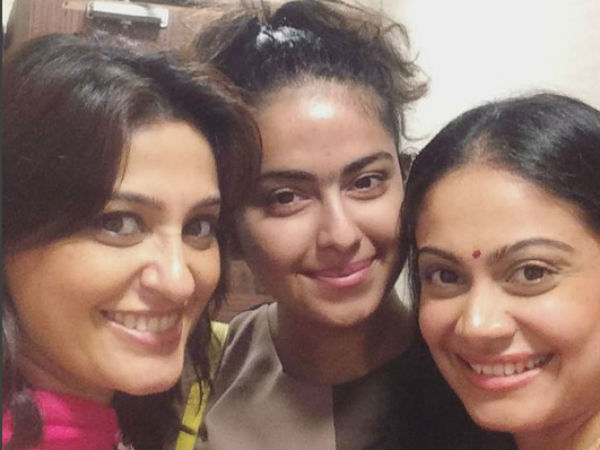 MUMBAI: We are back to shower our audience with soaring hot news from the telly world. Take a look at what today's list has in store for you.
Mohank Khurana to enter &TV's Angnifera once again!!!
&TV's Angnifera, which has managed to hook the audience to the screens, is all set to have another bunch of twists and turns.
The ongoing track is high on drama and Vishu aka Mohak Khurana will be re entering the show. His comeback will be quiet beneficial for Shrishti (played by Simran Kaur). He will return to the show in a new avatar leading to an interesting turn in the show.
Krushna Abhishek to promote his movie in Bhabhiji Ghar Par Hai?
Krushna Abhishek will be making a special appearance in &TV's Bhabhiji Ghar par hai to promote his upcoming movie Teri Bhabhi Hai Pagle, which also stars Rajneesh Duggal, Mukul Dev and Sunil Pal in lead roles besides him. Krushna has already shot for the episode today.
Juzzbatt to have a major programming change before it goes off-air
Zee TV's show Juzzbaat has gained a lot of popularity amongst the audience in a short span of time. The news about the show going off air and 5 August being the last telecast date has been making rounds.
The channel has changed the on-air timing of the programme. The show that was previously aired at 7pm will now be aired at 8pm. The upcoming episode will see the charming Karan V Grover along with Ragini Khanna for a light-hearted conversation with the host Rajeev Khandelwal.
Vishal Dadlani fulfils a fan's wish
Very few people get to share the space on stage with their idol and fulfill their wish. During the Delhi auditions for Indian Idol 10, a contestant came and wished to sing with the talented judge Vishal Dadlani. After knowing about the wish, the ace music director went on stage and sang along with the contestant, making it a special moment for the contestant.
Himmanshu A. Malhotra launches 'Unbook!'
Television actor Himmanshu Malhotra turns entrepreneur by launching the book named 'Unbook'. Himmanshu believes 'Unbook' is a breath of innovation and creativity and beyond anything, a source of inspiration.
Suyyash Rai wants to re-marry Kishwer Merchantt
Kishwar Merchantt recently shared a picture of hers in a swimwear and it seems her hot looks have mesmerized her husband Suyyash Rai.
Suyyash took to Instagram and commented on his wife's photo by proposing to marry her again. Suyyash and Kishwer, who got married in the year 2016, are one of the most loved television couples.
Beintehaa to be re-launched as Salaam E Ishq
Color's popular show Beintehaa starring Preetika Rao and Harshad Arora is going to be re-launched as Salaam E Ishq at 2 pm, Monday-Friday on Colors Rishtey.
The show is been re-launched on popular demand and the lead actress of the show Preetika Rao took to Instagram to share the good news with her fans. Take a look-
Vivan Bhatena reminisces his modeling days
Actor Vivan Bhatena shared some old photos of his modeling days. He took to Instagram to share those photos with his fans. He mentioned that one of his old close friends shared these pictures with him when he was a model way back in 2010.
Balika Vadhu's mother and daughter re-unite
Smita Bansal and Avika Gor, who played mother and daughter respectively in the most popular serial Balika Vadhu, recently met each other. Smita shared a photo on Instagram where she expressed her feelings and happiness on meeting Avika, and said how they met after a long time and how she can't believe that her daughter is all grown up now.
Puru Chibber takes up '#Whatsthefluffchallenge''
Puru Chibber shared a video on Instagram where he took up what's the fluff challenge with his dog.
The challenge has become a trend on social media and many TV stars have taken up this challenge as well. Puru Chibber is the latest one to join the trend.
Read what Pearl Puri has to say
Pearl Puri, who is seen in the serial Naagin 3, has shared a picture on Instagram saying that the scenes remind him how life tried to break him on various points of his life but how it failed to affect him.
Karan Wahi shares some old photos with his fans
Karan Wahi has shared some old nostalgic pictures to wish his old good friend 'Happy Birthday'.
Parul Chauhan shares the poster of her upcoming movie
Parul Chauhan took to Instagram to share the poster of her upcoming short film, I'm sorry mum'ma, and asked her well-wishers to shower some love and blessings on her.
Erica Fernandes shares some childhood photos
Erica Fernandes has shared some of her childhood photos. She took to Instagram to share the memories with her fans.
Erica recently was in news for being in Kasauti Zindagi 2. She was last seen as the female lead in Kuch Rang Pyar Ke Aise Bhi which was aired on Sony TV.
Anu Malik's crazy jokes on Indian Idol 10
In one of the audition shoots of Indian Idol 10, Anu Malik who is known to have the wittiest sense of humor and a knack of narrating shayaris cracked a silly joke which made the whole set crash down with laughter. It all started when Anu Malik composed an instant funny rendition of the song 'O O jaane jaana' to such that the serious looking judge Vishal Dadlani broke into a laughter fit. The never-gonna-smile music maestro Vishal's funny bone got tickled so much that Vishal fell off his chair. The shoot was stalled for 10 minutes and the crew just kept wondering as to what had happened till everyone saw Vishal rolling on the floor and experience bouts of laughter. Only when he laughed his heart out was when Vishal realized that he had actually hurt his elbow bone. Sony Entertainment Television's Indian Idol promises nothing but the best! This year, the biggest singing reality show is all set to raise the bar yet again with not just impressive talent but their awe-inspiring stories as well. It will be judged by music directors Anu Malik and Vishal Dhadlani and Bollywood female singer Neha Kakaar and the show will be hosted by Manish Paul.
Madhuri Dixit re-lives her childhood memories
The dance reality show Dance Deewane on Colors has proved that there is no age for dance. Since the show has started, it has impressed the audience with splendid performances by the contestants from different generations. This week the episode had the theme 'Bachpan special', where the contestants had to perform with a prop that will remind them of their childhood days. One of the performances, an aerial act on 'Illahi', performed by 'Deenanth Ji' from the third generation, who used a bicycle as a prop reminded Madhuri Dixit of her childhood days. The actress was really touched by his performance as she could connect this act with her own childhood memory. Madhuri shared her feelings saying that her childhood memories are very special and she used to ride a bicycle when she was young and used to crash into the bushes but then she managed to learn how to ride it. She also said that childhood memories teach us very important life lessons and this taught her to always have an undying spirit and never give up.
Karan pledges to create the next generation of musical superstars
After being in the industry for more than a decade, Karan Oberoi feels that India doesn't create musical superstar but feeds on them. Karan questions that when was the last time that an initiative was taken to discover, create and hone the skills of a musical talent and hand hold them to stardom. He also said that these reality shows don't do anything to push new talent, they are all for the audience and for TRPS and once the show is off air, the talent is forgotten. He has a vision to guide and train new talent for the next generation.
Shabir Ahluwalia spends time with his son
Kumkum Bhagya's lead Shabir Ahluwalia shared an adorable video on Instagram where he is seen jumping around with his sons at a recreation centre. No matter how busy his schedule is, he always makes sure to spend time with his family.
Gaurav Sareen's new look
In an upcoming episode of Krishna Chali London, Radhey (Gaurav Sareen) and Krishna (Megha Chakraborty) will dress up like Sikh people. Gaurav is excited about the new look where he will wear a turban with a kurta and pyjama like the sardars from Punjab. Since he hails from Punjab, the look made him feel like home. The female lead Megha said that she was very happy to play a sardarni on the show as she hails from Kolkata and the look was very unique, where she wears a beautiful Punjabi suit and the makers made sure that she had the right hairstyle and jewellery for the look.