How on earth is this even possible?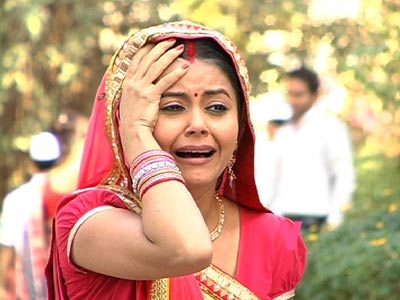 Star Plus' Saath Nibhana Saathiya, known for their totally unexpected and unbelievable twists is all set to amp up its drama quotient even more. The on-going drama between Jaggi (Mohammad Nazim), Gopi (Devoleena Bhattacharjee) and Kokila (Rupal Patel) has grabbed a lot of audience. And the upcoming track promises to keep you guys completely glued to your seats.
Just when we were thinking that with Kokila apologizing to Jaggi for falsely accusing him of murdering Ahem, things were returning back to normal for the trio, another tragedy in the form of Gaura (Vandana Pathak), strikes them.
Gaura is not only hell bent on destroying Meera (Tanya Sharma) and Dharam's (Amar Upadhyay) happiness, but also can not see Gopi and Kokila happy. And hence, she targets Jaggi and Gopi this time.
In one of her classic plots, Gaura enters the Modi Bhavan and slyly makes Gopi and Jaggi unconscious with the help of chloroform. She then, places the unconscious duo on the bed together, to make it seem like they have slept together.
Gopi will wake up the following morning to find Jaggi sleeping next to her in the bed and will get furious. But Jaggi would not be in a position to defend himself, as he himself would be absolutely clueless as to how did he get into Gopi's bed.
Soon after, Gopi will feel unwell and will visit a doctor who tells her that she is expecting a baby. The doctor will also tell her that a pregnancy at that age, is very risky. This will shock Gopi out of her wits.
Well, is Gopi really pregnant? How will Kokila react to this news? Or is this doctor too planted by Gaura to lie to Gopi and get her worked up?