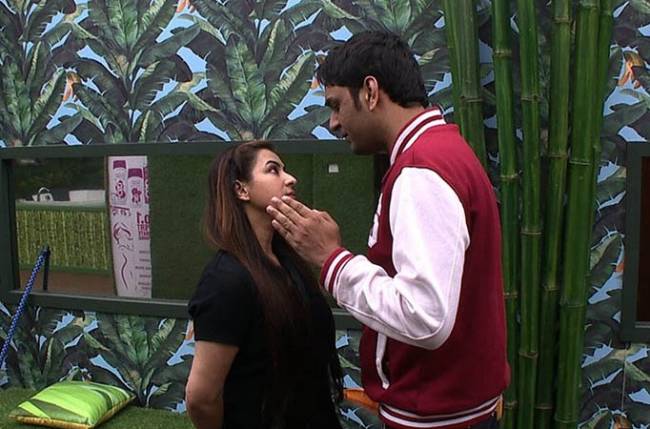 Since day one of Bigg Boss 11, the two people who cannot stand each other are Vikas Gupta and Shilpa Shinde. Their quarrel seems to be never-ending and now it is getting onto the minds of other inmates of the house.
However, there is a big twist to this drama. According to Gehana Vasisth, the warring couple who were in a relationship before, will be getting "married" on the show. Yes you heard it right! Vikas Gupta and Shilpa Shinde will say Qabool Hein or I do to each other, reveals Gehana Vasisth.
South actress Gehana Vasisth has been making very provocative revelations about various Bigg Boss 11 inmates including Arshi Khan, Priyank Sharma and now she has targeted Shilpa Shinde whom she claims is another 'big liar'.
Gehana Vasisth says she has very reliable sources in the channel Colors who told her that the two will eventually reconcile and "fall in love" There will be wedding bells for Shilpa and Vikas in December, reveals Gehana.
Shilpa has been constantly poking Vikas Gupta by singing songs. She has been taunting Vikas for her ouster from Bhabi Ji Ghar par Hain through her songs. As reported earlier, irritated by her constant irritation and behavior, Vikas had lost his cool and was seen carrying her clothes in the garden area. Vikas hid her clothes and other things in anger. Shilpa was unable to locate her clothes and other personal items and then she was told that her things were lying outside in the garden area. Over the last one month, there have been several fights between the two and at one stage the audiences have also got bored.
Now Gehana Vasisth had revealed to a media outlet that both Vikas Gupta and Shilpa Shinde were in a secret relationship during her stint Bhabi Ji Ghar par Hain. Gehana claims, both were "very close" to each other once upon a time and even shared a physical or sexual relationship, but Vikas chose to love his job more than Shilpa and was responsible for her ouster. Shilpa had got emotionally attached to Gupta, but he was not serious and was only interested in the physical aspect of the relationship. Eventually, things did not work out and Shilpa held Vikas responsible for all her problems as she expected him to stand by her in her problems with the channel.
Gehana Vasisth speaking to media outlets claimed that the Channel Colors and the production house Endemol were fully aware of this 'physical relationship' between the two and hence decided to take both – Vikas Gupta and Shilpa Shinde in the show.