The damsel talks about finally entering the daily soap space..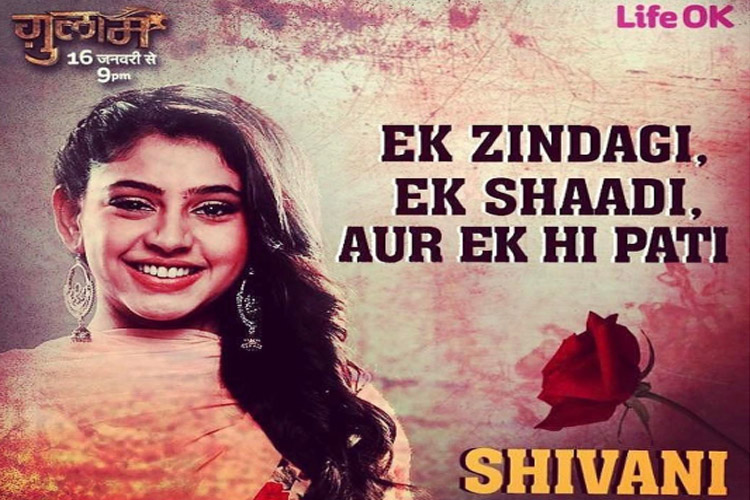 It has been a relatively long wait for actress, Niti Taylor, whose last performance was an extremely popular one i.e. Nandini Murthy from 'Kaisi Yeh Yaariaan.'
However, after all this while, the actress finally makes her comeback to fiction space, where after being a part of the youth shows for all this while, she enters the daily soap space in a more quintessential way.
In a vis-a-vis conversation with the beautiful actress, Niti spills beans on her character, which has been kept under the wraps for all this while, her challenges while enacting the role and the shift from being in a youth show to being in a daily soap.
So Niti, your character in 'Ghulam' has been kept under the wraps for all this time. What is your character and what can the viewers expect from it?
They save the best for the last (laughs). My character of Shivani is this very simple and docile girl, who is very innocent and gets fazed by the worldly atrocities very easily. She has a very pure heart and her simplicity is what makes her the lovable person she is. She is that kinda person, who if comes in contact with four guys together, she gets scared on what to do. She wouldn't be able to understand how to tackle that. She has lived in a very secluded space all her life and has very few people in her life.
Your popularity has been mammoth, courtesy your previous show, 'Kaisi Yeh Yaariaan.'And now you are gonna be coming on a channel like Life Ok, which has a relatively lesser reach than market juggernauts. Do you think that will be a factor?
So, I think, I will be changing that factor for Life Ok, I hope (laughs). You know, every channel becomes big when there is one show which rises high and I am absolutely positive about 'Ghulam' being that show. The show is so different that anything we have seen on TV so far. Every character in the show has its importance and we as actors, have so much to give to the role. I really hope the viewers support us and I hope the same will be judged by watching the 1st episode itself.
In recent memory, we have seen content driven shows finally coming on tube, being popular online, but not able to fetch great in the numbers game. There are examples like 'Beyhadh' which is a great show, but unable to make it big in the TRP game. What do you have to say about that?
I actually love 'Beyhadh' so much. And ironically, our show is launching at the same time slot and will be in competition with 'Beyhadh.' I really don't understand the disconnect between the online popularity and rating charts. I love Jennifer Winget and the show is absolutely fantastic. However, I really don't understand and it is in fact scary that a show like 'Beyhadh' doesn't have the desired ratings.
I truly feel that amidst online popularity, numbers do matter. Because, as you mentioned that inspite of being content driven, some shows shut down because they do not have the apt ratings. Hence, I pray and hope 'Ghulam' is not one of them and we get a good opening and we sustain that.
'Ghulam' is inspired from real events but not based on a real story, where it will also be preaching a message indirectly. Do you feel that such shows have a direct connect to the audience?
I do believe that. I mean look at how 'Crime Patrol' and 'Savdhaan India' are doing so well in their space as they have this raw content and direct contact to the audience, where people get astonished to see so many things and are unable to believe that such things happen. Similarly, with' Ghulam', the writer must have been inspired from something that led to this, and how this girl (Shivani) enters this world of Behrahampur and all that she will have to face will be something to watch out for. She will be fighting back and the way she does it would be a treat in itself.
You worked in a youth show and now enter the quintessential daily soap space. Working with a younger lot and working with a senior lot; how is that different?
Trust me, working with the 'senior' lot is actually so much more fun. As there is nothing for me to worry about here (Laughs). I am the baby of the set where I am extremely pampered by everyone and food comes for me first etc. I am loved and adored and I am absolutely enjoying the those perks (laughs).
Will this show and the character of 'Shivani' break the image of 'Nandini Murthy' from 'Kaisi Yeh Yaariaan?'
I can assure you, it will. This show will absolutely break the image of Nandini, where probably the hairstyles will be the same (giggles), but otherwise, the image will be broken completely, (in the positive way).
What do you have to say to your fans who will be watching you in a totally different avatar with 'Ghulam'?
I just pray and hope that you guys continue to give me all the love and support that you have given me all this time. It's a new journey that I have begun and I am very nervous about it. I have never played this sort of a character before and even not spoken so much Hindi ever. This is the first time I will be speaking so much Hindi (laughs). The role is very challenging and demanding because of what all I had to do in the show, going against the limits. So, please keep loving and supporting me by watching 'Ghulam.' It truly is a never-seen-before show.