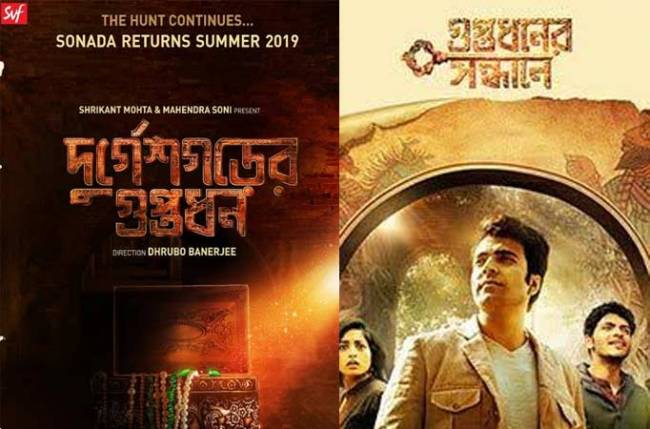 KOLKATA: Those who just watched the Bengali treasure hunt film Guptodhoner Sondhane and loved it immensely can smile as we bring a piece of good news for you.
After positive response of Guptodhoner Sondhane at the box office, the makers are gearing up for its sequel titled Durgeshgorer Guptodhon.
Produced by SVF and directed by Dhrubo Banerjee, Guptodhoner Sondhane stars Abir Chatterjee, Arjun Chakrabarty and Ishaa Saha in lead roles.
We hear the story of the sequel will revolve around the same characters: Subarna Sen aka Sona'da (Abir Chatterjee), Abir (Arjun Chakraborty) and Jhinuk (Ishaa Saha). Sona da, Abir and Jhinuk will embark on a new adventure to unearth another treasure related to the history of Bengal. This time the hunt will be in the forts of Bengal!
The film Guptodhoner Sondhane spoke about a very known phase of history from the Mughal era. Yet the core segment of the hidden treasure of Shah Suza was fairly lesser known. This theme of "lesser known chapter of our known history" will continue in the sequel too. For the demand of the story, new characters will also be introduced.
We couldn't get in touch with the actors for a comment.
Are you exited for the sequel of the treasure hunt film? Share your thoughts in the comment section below.
Stay hooked to this space for more updates.