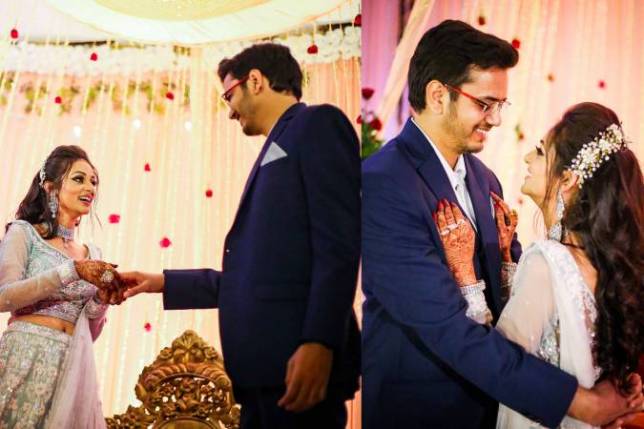 Congratulations are in order for actor Kajol Srivastava who recently got engaged. The actor says that while she was uncertain about marriage at this stage, it was her fiancé Ankit, whose confidence motivated her as well. "I am feeling really happy. I was not really sure about marriage initially because I wanted to get married after like five years as I was not prepared for it. But Ankit's confidence and his efforts made me realise that we can take this ahead. Otherwise, I was sure that I won't get married before 30 years and I think I have taken the right decision," she says.
The radiant actress, however, is also grappling with the challenges of a long-distance courtship. "It's really difficult, I feel it takes a lot of effort to keep it going and like we are facing time differences, there is a possibility of having trust issues as well. Our timings are so different that when I'm busy, he's free and when he is busy, I am free but we make sure that we talk at least for 5-10 minutes," she says.
Ask her how her fiancé is feeling after the engagement, and she says, "He is extremely happy…normally people say that girls get excited but in our case he is more excited than me. If anyone looks at him they will get to know how happy he is instantly."
It is often assumed hat upcoming nuptials means less work for actresses, however, Kajol disagrees. "I really feel it's a personal choice, in my case I love acting and I just can't quit because I know how I have built my career. But people have their perceptions. I know some people who think that after getting engaged an actress won't get a big role even if she's very young. I am sure if I will keep giving auditions and keep doing serials, people will get it that I am not quitting the industry. But, yes people normally think this. I think that male actors don't leave then why should female actors quit the industry after getting married? Nowadays we talk about equality so in my relationship status we both follow this. We give importance to our careers equally," she says.
Kajol was last seen in Shani and wants to take up a romantic role next. "I really want to do a romantic show or something like Jennifer Winget's Beyhadh. So, I am looking forward to playing something which is really positive. I am auditioning and I am in talks with people as the main lead for different kind of shows but I am confused about what I want to do. I would either like to play Prerna in Kasauti Zindagi Kay 2 or else something like Jennifer Winget in Beyhadh," she says.