Will Dev take a stand for his love, Sonakshi or is she on her own, in this battle…?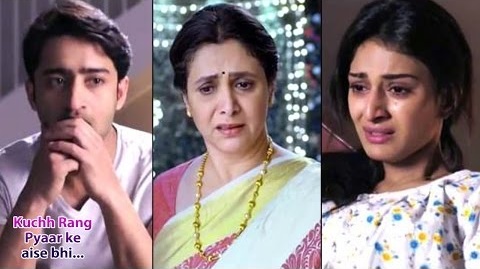 With the core concept of jealousy sprawling over in Sony TV's beloved show 'Kuch Rang Pyar Ke Aise Bhi', the viewers will now get to see more drama rising up in the coming episodes.
With the ongoing track, Ishwari (Supriya Pilgaonkar) has started feeling insecure because of Dev (Shaheer Sheikh) and Sonakshi's (Erica Fernandes) relationship. Their togetherness is pinching Ishwari, making her possessive towards her son, Dev. However, in the upcoming track, Ishwari will prove to be the wreck in Dev and Sonakshi's relationship.
Dev will suffer high fever, where Ishwari will be seen taking care of him. Sonakshi, who is restless after knowing Dev's sickness will rush to meet him but will not be able to meet him as Ishwari will forbid Sonakshi from entering Dev's room. She will tell him that it's not her job to take care of Dev, so it'd be better if she stays away from him.
On the other hand, Dev is enjoying all the pampering that he is getting from his mother, Ishwari. Dev is unaware about Ishwari's intention and thus, is spending a good time with her.
Ishwari's hatred for Sonakshi is just increasing. Will Dev be able to convince Ishwari in favour of his relationship with Sonakshi? Will Dev take a stand for his love or is Sonakshi on her own, in this battle…?
To know more, stay tuned for further updates.