With the contestants' friendships and relationships put to test, who will eventually get nominated for this week's eviction?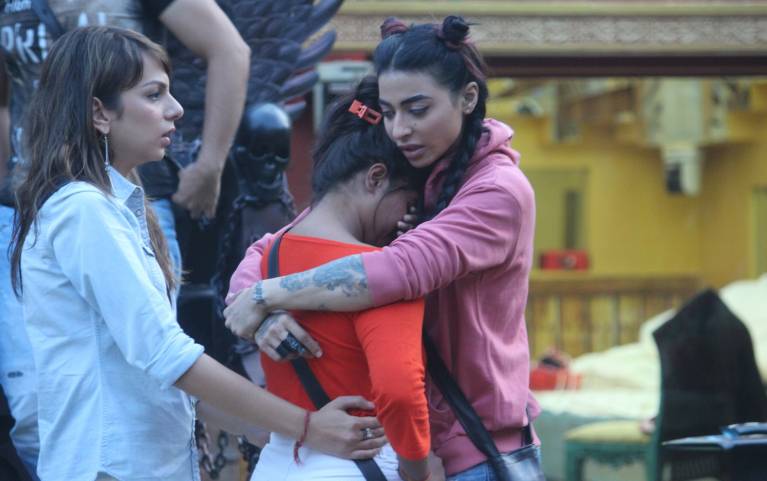 After a day full of sacrifices, Bani, Rohan Mehra, Monalisa, Nitibha, and Gaurav Chopraa find themselves secure from this week's nominations. And, marking the dawn of a new day, the housemates wake up dancing to the tunes of the song 'telephone dhun mein hasne wali' all prepared for the next leg of the nominations task. Gaurav and Bani are spotted having an interesting conversation about Gaurav's marriage and how his matrimonial profile will read like. As Gaurav describes the girl of his dreams, Bani is unable to hold on to her laughter.
As the second round of the nomination task continues, Manu picks up the phone and is commanded by Bigg Boss to convince Manveer to shave off his beard. Quite possessive about his beard, Manveer requests Bigg Boss if he can do something else rather than shaving off the beard. On understanding that Manveer has invested nine months in growing his beard and considers it to be a lucky charm, Manu tells him that he is ready to get nominated if Manveer is not willing to do the task. This leaves Manveer in a confused state of mind and he decides to give it a second thought.
Furthermore, making Manveer's life even more difficult, Manu nominates him to sit on the throne next. In order to save himself, Manveer has to convince Rohan to dress up like a girl and stay in the garb until Bigg Boss' further notice. Knowing the fact that Rohan will never agree to do cross dress to save Manveer, he comes up with a strategy and decides to manipulate Lopa instead. He calls Lopa and Rohan and tells them that either Lopa needs to destroy her makeup or Rohan needs to dress up like a girl. Rohan tells Manveer that he would take a decision after he sees the full attire. Next in line is Karan who is asked to convince Lokesh to nominate herself and give up on the chance to get safe from nominations. Karan puts Lokesh in a fix and one thing leads to the other when Lokesh ends up taking a wrong decision.
Later in the day, Navin takes on the seat and is asked to convince Nitibha to give away her make up for the entire season. Navin sweet talks Nitibha into sacrificing her makeup and ensures that he would get Lopa and Bani to share makeup with her. Bani narrates the entire conversation to the celebrities. However, Lopa goes and tells Navin a completely different version and says that Bani claims that Navin would steal Lopa and Bani's make-up for Nitibha. Navin confronts Bani and they both get into a fight and even hurl abuses at each other. Bani feels targeted and tries to explain her stand but fails to do so. She further lashes out at Lopa for putting her in a bad spot and they both have an argument.
Ending the day on a good note, Gaurav is seen advising Bani to share her problems with the fellow housemates and avoid snapping at everyone. While Bani listens to him patiently, she tells him that this is her true side and she prefers to be left by herself to deal with her problems.
With the contestants' friendships and relationships put to test, who will eventually get nominated for this week's eviction?