The producer of 'Ghulam' spills beans on the show, his past experience and the numbers game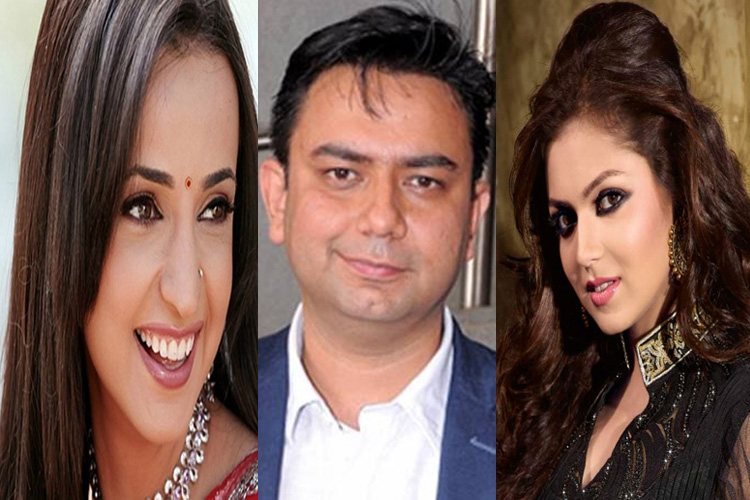 The Life Ok mega show, 'Ghulam,' is all set to hit the screen next week and the buzz could not have been 'buzzing' more. With a stellar cast of Param Singh, Niti Taylor and Vikas Manaktala, the show has been the talk of the town since day one.
After eye-catching promos and character details given by the actors, the restlessness for the show going on-air is only increasing. In a vis-a-vis conversation with producer Saurabh Tiwary, he spills beans on the show, the number game, and experience of working with actresses Sanaya Irani, Drashti Dhami and now a NEW star cast.
So Saurabh Sir, what, according to you has been the biggest challenge making 'Ghulam'?
I think the show's scale and the writing have been the biggest factors in itself. In television space, there are 7 channels today presenting almost 60 shows. Amidst this crowd, you are presenting a NEW show that the audience doesn't care directly. Hence, unless and until there is not something 'worthy' or 'wow' being proposed to the audience, they are, of course, not gonna watch it. Even today, when we sit to write an episode, we make sure that every scene has that factor that keeps the audience glued to the TV screens.
One of the biggest trends brought by you itself was the 'MahaEpisode' trend. What according to you is the biggest trend on television currently?
I think the MahaEpisode trend is still going on and we are even suffering from it (laughs), as we have 'Zindagi Ki Mahek's' mahaepisode on this 18th January 2017. Apart from that, I fail to understand that why have some stories become so 'unreal' these days. And all this is with due respect to 'Naagin' and other such shows working. There was 'Naagin' being made previously also and was successful back then too. Hence, it is not that 'Naagin' thing which people find the problem to be. The problem is there is a sincere lack of innovation these days. If there is a particular trend of show working, then everyone wants to follow that. Hence, I do not have a problem with 'Naagin.'
I mean we have seen 'Anaconda' in Hollywood too, right? So, the problem is not with one particular show working, but the problem is with everyone else following suit without any innovation.
'Ghulam' has a very hard hitting concept. Are you proposing a societal change as such concepts have a positive history of working on television?
According to me, I do not think that I make any show to bring a 'change in society' per se. Any TV show cannot bring in any change in the society whatsoever. We are an entertainment company and we should not forget that. Even when we made 'Balika Vadhu' or 'Na Aana Is Desh Laado', our only intent was to present a good story and not bring a 'change in society.' Our job is to entertain through any possible genre and that should stay instead of presenting unwanted 'gyaan' (knowledge). Having said that, while presenting such a story, if I have managed to bring a change, unintentionally, then an added bonus.
You have worked with GRP leaders like Colors and Star Plus in the past and now you have come to a channel like Life Ok with a relatively lesser GRP. Do you think that will be a concern?
No, I don't think people watch shows according to channels. They watch shows and any shows. The most recent example to us can be 'Zindagi Ki Mahek.' Four months ago, when we were making this show for Zee TV, we were being said that we need a show which can be made with a lesser budget and for an early primetime slot and we do not want it to be shot in Mumbai, as it is costlier there. And then comes '..Mahek', if you see, there is not ONE 'known face' in the show. We began the show with this less budget and it began with a 0.9 rating and we were competing against 'Siya Ke Ram' which was at 2.1 and 'Shakti… Astitva Ke Ehsaas Kii', the GEC leader. And then we came to next week, which was even lesser at 0.8. There was suddenly a lot of pressure and forbid, if the show goes down, then we may just have to shut the show in 3 months.
And then gradually, the turnaround began, where we got our jumps from 0.8 to 1.0 then 1.3, 1.5, 1.8 and eventually we reached at 2.1, where we are settled at 2.0 currently. The ultimate crux of all this is that it was a lesser known show like '..Mahek' and a channel with same GRP as Life Ok! So, people don't sit to watch channels specifically, they sit to watch shows. If it is a good show, eventually the show will pick up due to word of mouth. In future, God forbid, if Ghulam' doesn't work, then it won't be because of Life Ok Channel, it will be because of us.
Your previous shows, 'Madhubala-Ek Ishq Ek Junoon' and 'Rangrasiya' had the likes of Sanaya Irani and Drashti Dhami respectively, who have a massive fan following. Even today, you're working with popular actors in 'Ghulam', but maybe not to those heights. Do you think that will be a factor?
For me, apart from the fact that Sanaya Irani and Drashti Dhami are popular, they are amongst the most fantabulous actors I have ever worked with. It is true that star power matters, but on the basis of star power, you can probably rely on getting viewership for the first episode. That buzz will stop and end at the end of that first episode. From the second episode, it is the content and writing that will come into play. Hence, at the end of the day, it is the actual content, writing and then the presentation that will matter.
We have seen several shows in recent times that have a massive popularity online, but doesn't transpire into ratings. Even 'Phir Bhi Na Maane..Badtameez Dil' was one of those examples. Why do you think the disconnect happens?
That is only because people are watching the shows online instead of watching them on television. And unfortunately, online is not the correct form of measurement of ratings for Indian soap scenes. Ironically, with me, this has always happened, where all my shows have been popular online. Be it 'Madhubala – Ek Ishq Ek Junoon', 'Rangrasiya', 'Phir Bhi Na Maane..Badtameez Dil' and now 'Zindagi Ki Mahek' is also on those lines. However, it is nothing but saddening that why does this popularity not transpire into numbers and why can't the broadcasters monetize on it. I really hope all this gets channelized and gets monetized so that we as makers, get the support.
Finally, to the readers, what can they expect from 'Ghulam' and how will their expectation be fulfilled?
I think, people get entertained by watching 'Ghulam' and that is my sole motto. As I mentioned above, preaching any social issue is not our aim and we do not want to do that. Even if there is a message going, I would like it to go in the most non-preaching manner. So, I hope the viewers get entertained and they can expect a totally new form of entertainment which will be fulfilled completely.
We wish Saurabh Sir All The Best for 'Ghulam' and just like the viewers are totally looking forward to it..!