Riteish Deshmukh performs a special Ganesh Aarti and encourages the kids along with Banjo co-star Nargis Fakhri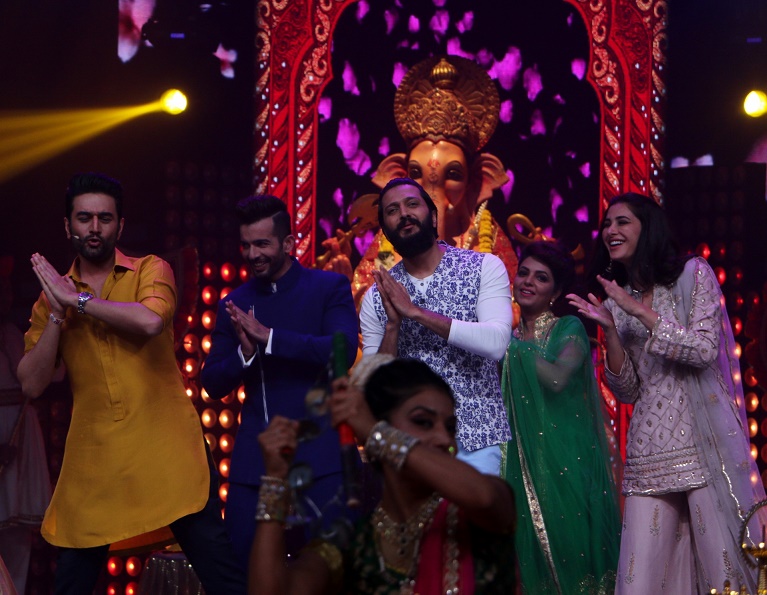 The show that revolutionized the ringing reality genre with a unique format with BLIND AUDITIONS followed by BATTLES, &TV's The Voice India Kids is now in its final phase with the LIVE rounds.
18 contestants have been chosen and they are ready to set the stage on fire in the coming weeks, with the audience deciding their fate. Each team has unique voices, who have proved that 'Size kam hai, par Dum Nahi'.
This weekend will see the cast of Banjo- Riteish Deshmukh, Nargis Fakhri and Dharmesh, encourage the kids to do their best while the cast of Baar Baar Dekho – Siddharth Malhotra and Katrina Kaif revel in their childhood memories with the kids. Tune into The Voice India Kids this Saturday and Sunday as the LIVES begin at 9:00pm only on &TV.
Having received a phenomenal response from the masses, the participants have undergone intensive training with the coaches Shekhar, Shaan and Neeti. The LIVE rounds will have 9 kids performing, i.e. 3 kids from each team, and giving it their best shot. However, this time, the fate of each contestant lies in the hands of the audience as their votes will decide whose journey comes to an end. If choosing contestants from their own teams for BATTLES was tough for coaches, the competition amongst the coaches will be seen getting fiercer as they leave no stone unturned to train the kids in delivering their best.
Speaking about the same, Riteish Deshmukh said, "I am so proud that today's generation sings old evergreen songs. The talent in The Voice India Kids is fantastic."
"I felt as if I was attending India's top singer's concert," said Katrina Kaif.
Speaking about the same, Siddharth Malhotra said, "I must say the music industry of India has a bright future and I'm really happy to see the talent on the show. I would really like to thank the entire team for having us on The Voice Kids. I can't sing but I can rap and I must say that the boys sang so well. I dedicated the rap to all the girls and Katrina on the show."
After the conclusion of the last week's battle rounds, the TOP 18 Contestants for THE LIVE rounds are as follows:
Team Shekhar: Harveer Singh Chawla (Indore), Ridipta Sharma (Assam), Riya Biswas (Kolkata), Mismi Bose), Shivam Singh (Gujarat), Shreya Basu (Delhi)
Team Shaan: Pooja Insa (Haryana), Jasu Khan (Rajasthan), Attaluri Pravasthi (Chennai), Priyanshi Srivastava (Lucknow), Shanmukha Priya (Vishakapatnam), Shristy Chakarborty (Ahmedabad)
Team Neeti: Shrishti Rawat (Delhi), Nishtha Sharma (U.P.), Kavya Limaya (Gujarat), Tiyasha Bau Das (Kolkata), Vishwaprasad Ganagi (Karnataka), Saanvi. V. Shetty (Bangalore)
Don't forget to tune into The Voice India Kids, every Saturday and Sunday at 9:00 pm only on &TV